Now the God of hope fill you with all joy and peace in believing, that ye may abound in hope, in the power of the Holy Spirit. Romans 15:13.
In the beginning of this lesson we read in Ezra about the return to Jerusalem, which had been turned into a ghost town, and how the people began rebuilding it. There were those who wept over their lost city, and there those who shouted for joy at the laying of the new foundation. Honestly, I relate more to those who wept, but I can understand the hope that the new foundation symbolizes after the destruction of Jerusalem – this is a cause of rejoicing. It makes me think of what Jesus said about the temple being destroyed and rebuilt. Even though I know the He is risen and that His suffering has ended, thinking of His passion and the suffering that he endured still brought me to tears, as I wrote about in this post. It's the same with my two babies. Though I am in a place where I can see a "new city," I still weep for what was and for what could have been. I know that God is working in me. He is re-laying the foundation of my life and my joy. But honestly, I am still in the storm of my grief.
The authors share the following quote and ask which direction we are looking:
Sorrow looks behind,
Fear looks around,
Faith looks.
I am looking in all directions. That can be dizzying.
Praising God after losing my babies was not as difficult for me. I knew the blessing that my babies each were and remained thankful for that. Maybe that's why I didn't completely turn away from or feel anger towards Him (but that doesn't mean I didn't feel undirected anger), even if I did feel abandoned at times. "Moving on to something new," however, is a whole different issue that I have difficulty even trying to contemplate. Cognitively, it's very hard for to separate "moving on" to "leaving behind." I'm starting to understand that it's not so much moving on from Calvin and Rainbow, but moving on from the pain and the grief, but I haven't untangled it all, yet, and I'm okay with that – I know that God is ever so patient and that He is here with me, helping me separate the threads of grief and sorrow from those of hope and joy. And one day, I will made anew. I will be a tapestry in which the lives of Calvin and Rainbow are intricately woven.
3Blessed be the God and Father of our Lord Jesus Christ, who according to his great mercy begat us again unto a living hope by the resurrection of Jesus Christ from the dead, 4unto an inheritance incorruptible, and undefiled, and that fadeth not away, reserved in heaven for you, 5who by the power of God are guarded through faith unto a salvation ready to be revealed in the last time. 6Wherein ye greatly rejoice, though now for a little while, if need be, ye have been put to grief in manifold trials, 7that the proof of your faith, being more precious than gold that perisheth though it is proved by fire, may be found unto praise and glory and honor at the revelation of Jesus Christ: 8whom not having seen ye love; on whom, though now ye see him not, yet believing, ye rejoice greatly with joy unspeakable and full of glory: 9receiving the end of your faith, even the salvation of your souls. I Peter 1:3-9.

We are asked to list some of the "new things" God is doing in our lives. One of the new things God has done in my life is strengthening my faith and erasing the feeling that I need to be "inconspicuous" about my faith so that I don't offend others. Freedom of religion is about being able to freely practice my beliefs, not about worrying about how my doing the sign of the cross or saying grace at a restaurant might affect others.
This lesson talks abut a sacrifice of praise and how praising Him is the key to letting Him get on with the job.For a previous Walking with You post, I wrote this: Tearful, Empty-Armed, Hurting Praise. I had so much sorrow weighing on my heart at that time, but I learned that there is something very powerful that comes with praising God when you are hurting, and the brokenness becomes okay. His strength is truly made perfect in weakness. Psalm 71:14: But I will hope continually, And will praise thee yet more and more.
I like the quote from Teale Fackler: The Lord has comforted me by giving my grief and experience purpose. It helps to know that I can help others through my experiences by offering my support to those who have lost a child and by helping those who don't know this pain to understand what we are going through and hopefully give them more insight on how to best offer comfort and support to anyone they know who has suffered this type of loss. I have also found found comfort in the "babyloss" community – through other parents (online and in real life) who have validated my feelings and who have given me hope of finding happiness without "forgetting" and "moving on with my life" – and in those who have, without judgment, been willing to bear witness to my grief and how it has changed me.
There are many things in my life for which I can be joyful. Today though, with Mother's Day coming up tomorrow, I just want to share this Scripture from Isaiah 49:15-16, because, although my heart aches so badly for Calvin Phoenix and for Rainbow Baby, I am filled with joy knowing that I am still a mother, though my children live in heaven, and that they are safe and whole in God's care:

15Can a woman forget her sucking child, that she should not have compassion on teh son of her womb? Yea these may forget, yet will I not forget thee. 16Behold, I have graven thee upon the palms of my hands; thy walls are continually before me.
---
This is the last post of the Threads of Hope series, and I wanted to give a big thank you to Kelly for leading us through it and encouraging us to stick with it. I have so needed to spend this time in His word, and it has meant a lot to me.
---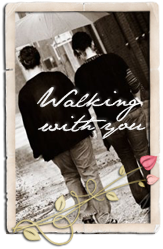 This Threads of Hope, Pieces of Joy Bible Study is part of the "Walking With You" outreach of Sufficient Grace Ministries, led by Kelly Gerken. To learn more, read Kelly's post: "Upcoming Threads of Hope Study."
To read my posts on other lessons, please use the links below:
•Lesson One: Your Story
•Lesson Two: So Many Questions
•Lesson Three: This Can't Be Happening
•Lesson Four: Why Me?
•Lesson Five: How Can I Go On?
•Lesson Six: I've Got to Get Better Soon
•Lesson Seven: Moving On to Acceptance
•Lesson Eight: Learning to Let Go
---