Lynette at Dancing Barefoot on Weathered Ground is hosting a Harvest of Friends Blog Party throughout the week as a way for bloggers to find and get to know each other.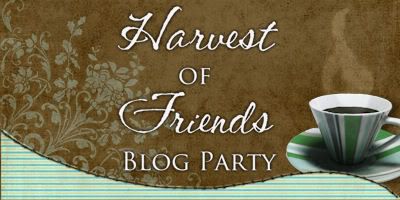 Since the very painful lost of my son, Calvin Phoenix, when I was 18 weeks pregnant, blogworld has become a great source of comfort and support for me, and in this space I'm starting to learn more and more about these beautiful people, these blogging chums (as Lynette would put it), beyond the heartache of child loss. To help us get to know each other better, she came with:
"20 Weird Questions That Will Give a Little Insight Into Who You Are"
What is your favorite thing to snack on while you're blogging?

My fingertips. Louie, my sweet husby, pointed it out to me one day by doing an impression of me on my computer.

What is one thing you wouldn't want to live without?

If by thing, you mean an inanimate object, I would have to say my iPhone. If this question were one thing/person/being you can't live without, that answer is easy: God.

Beach, Mountains or Farm? Where would you live if you had a choice?

I'd pick the beach. Mountains have bears, lions, and caves and crevices in which scary creatures can hide. The farm would be my second choice because I'd love to grow my own food.

What's your least favorite chore/household duty?

Washing dishes because I don't like the feeling of grease or clammy, wet, wrinkled fingers. I know I could just wear gloves, but my fine motor skills suffer when I wear them; I just feel less able. Maybe I need to find the right size.

Who do people say you remind them of?

Phoebe from "Friends," Liz Lemon from "30 Rock," and when I was in junior high, my dad said my friend Grace and I reminded him of Beavis and Butthead, from, well, "Beavis and Butthead," because we would just sit there laughing at stuff.

Prefer parties and socializing or staying at home with the fam?

Staying at home. Or small parties at home. I enjoy more intimate events over big bashes.

What's your all time favorite movie?

I can't list just one; I just can't. I can give you four (in no particular order): Eternal Sunshine of the Spotless Mind, What Dreams May Come, Amelie, and Knocked Up.

Do you sleep in your make up or remove it like a good girl every night?

It depends. If I'm really tired, I get lazy and just sleep in it. Sometimes I'm just lazy. That's actually one of the reasons why I started using Bare Minerals makeup – it's okay to sleep in it!

Do you have a hidden talent or a deep desire to learn something that you've never had a chance to learn? What is it?

Hidden talent: I give great massages.
There are so many things I would love to learn to do: sew, create handmade jewelry (soldering iron anyone?), make pasta from scratch, play the guitar, take brilliantly awesome photos, sing, compose music, be able to code web backend on the fly…

What's one strange thing you're really good at?

I'm really, really good at going the opposite direction I should be going.

What first attracted you to your spouse?

His smile. His sweater. And his art.

What is something you love to smell?

Fresh laundry! It's so crisp and clean. When Louie is wearing a freshly laundered shirt, I love to rest my nose against the top of his shoulder and inhale deeply. I even do this in public. Louie finds it odd. And sometimes embarrassing.

Tell something about you that you know irritates people.

Sometimes I tend to be a know-it-all. I've learned I'm still in the processing of learning that I don't have to answer people's rhetorical questions (e.g., why is it cold when the sky is clear?) or correct people's mispronunciations or incorrect recollection of conversation/song lyrics.

When you have extra money (HA!) what's the first thing you think to do with it?

Put it towards bigger payments on my bills or buy something I've been wanting. I would currently like "extra" money for a new computer.

Are you a silent laugher or a loud laugher? What makes you laugh the hardest?

I'm a silent laughter, unless something funny that is really, really unexpected happens. It makes me feel bad for Louie sometimes because he'll show me something funny, but always has to ask to if I thought it was funny because I wasn't laughing. The hardest I've laughed in while was actually tonight when Louie and I were with our support group, and we were sharing our middle names with each other. I was telling the story of how Louie came about having his middle name.

Where is your favorite place to shop?

I do more window shopping than actual shopping. And usually it's not really window shopping, but looking around online at things, so I guess it's the Internets?

What's one thing you'd do more often if you had more time?

I would write more, art more, craft more.

Are you a big spender or frugal?

I'm usually very frugal, but once in a while I will splurge on something. Read: iPhone. Bed. Nice sheets. 30 Rock on DVD.

Who is your favorite character of all time (from a movie or book)? (Can't be real)

The statement "of all time" seems so definite. How about at the moment? At the momen, my favorite character is Harold from Harold and the Purple Crayon, because he reminds me Calvin and I'd like to think Calvin has his own "purple crayon" in Heaven.

Would you want to be famous?

Yes, but not if it were for something bad. I guess that would mean infamous. I don't want infamy. Maybe I just want to be known… not necessarily famous like a celebrity.
Would you like to join the blog party and find more blogging chums?
Just click on the banner at the top to grab the questions and see how to link up. Or you can just as easily click on this link to get there, as well.