After losing my babies, I expressed my grief through crying, writing, art, and talking with people. I still do that. I also allowed myself to be sad — honestly, I wanted to be sad forever, if it meant I would never forget my children. I don't allow myself to cry or express this sadness (at least in real life) as much anymore because I feel like I need to keep going and there are people in my life who expect be to be better already. Sometimes, I get afraid of getting stuck in the sadness, but I know it's important to honor and respect my feelings. For some reason, though, I haven't been putting that into practice as much lately.
Depression
I know I'm depressed when I feel lethargic and don't want to get out of bed. Other times, I can't sleep because my mind can't find rest. I stop taking care of myself and things just start to get messy at home. I find that when I can grieve "productively," and do things that honor my babies, that when I lean into the grief again, I start to feel better. It's like what is said in Psalms 126:6: He that goeth forth and weepeth bearing seed for sowing, shall doubtless come again with joy, bringing his sheaves [with him]. I need to make something of my mourning and carry the good back with me.
Loneliness
I hoped my parents, family, and close friends could help me. Those who were present did, but I was hurt by the lack of response and acknowledgment, by words that were insensitive and didn't respect my mourning, my grieving process, and the decisions we made. I felt betrayed, abandoned, and forgotten. And what hurt more was that if felt like Calvin was being forgotten, and his life was not respected.
My family was also grieving for my loss and for the hurt Louie and I were experiencing. I think they may have been overwhelmed by their feelings and not knowing how to offer us the comfort we needed because it was difficult to see us in such pain. I think they would rather see us "healed" and "moved on" or maybe just didn't know what to say. So we were offered simple platitudes such as He's with God, It wasn't meant to be, and other things that would definitely make other baby loss parents really upset. These things did not help. They felt isolating.
Christ knew a lot of loneliness. He knew grief. I believe He knows my sorrow and understands it. In the times when I feel most alone, I am reminded that God will always be with me because He is the only to whom one I can turn. Father Miguel gave Louie the bookmark to the left, which has Romans 8:35-39 on, after he blessed and baptized Calvin (that's Louie's handwriting). He is constant, when others are not. I feel blessed by that.
Guilt
More recently, I'd been feeling really guilty about my losing Calvin, and specifically the day I delivered him and all the things I didn't do. I found myself consumed, replaying this over and over again as I lay in bed at night, trying to make it right. I've tried to remind myself that I did the best I could at the time. I asked God to take this guilt from me, and I think He is doing that. He is helping me to let go. This incessant self-doubt starting has started lifting from me. What really helped was the homily at church a few weeks ago, in which the priest specifically spoke of needing to let go of unrealistic guilt. Louie and I had originally planned to go at different time at a church closer to home, but went to St. Ignatius instead because we were running late. I was meant to hear that homily, from that priest, at that Mass, at that church.
Fear
I'm more afraid for people who have babies or who are pregnant. I'm afraid I will never have a living child. I'm afraid that something will happen to my husband or to my loved ones. I'm repeatedly plagued by the thoughts of not getting pregnant again, and of always losings my babies if I do.
When I am anxious I turn to God and to my husband and try to keep trusting that whatever He chooses to do with me and my life is for His greater glory and that I will be with my babies again in Heaven.
God will be with me and uphold me. He will comfort me and be by my side. I can cry to Him. He gives power, love, and discipline. When I find myself depressed, I plan to turn to God's Word to lift me up. That is one new way I have learned to deal with my anxiety. By turning to His Word and remembering his promise, I can be soothed:

Why art thou cast down, O my soul? And [why] art thou disquieted within me? Hope thou in God; for I shall yet praise him [for] the help of his countenance. (Psalm 42:5)

---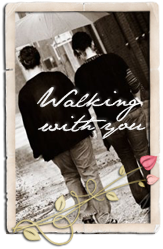 This Threads of Hope, Pieces of Joy Bible Study is part of the "Walking With You" outreach of Sufficient Grace Ministries, led by Kelly Gerken. To learn more, read Kelly's post: "Upcoming Threads of Hope Study."
To read my posts on other lessons, please use the links below:
•Lesson One: Your Story
•Lesson Two: So Many Questions
•Lesson Three: This Can't Be Happening
•Lesson Four: Why Me?
•Lesson Six: I've Got to Get Better Soon
•Lesson Seven: Moving On to Acceptance
•Lesson Eight: Learning to Let Go
•Lesson Nine: Finding Joy
---