I really like how this lesson opens — it addresses the fear I expressed in lesson 7 about acceptance meaning forgetting: What does it mean to let go? It is not the same as forgetting and it not simply 'getting on with your life.' Letting go means releasing your child into the hands of God. Letting go also means releasing your grief into the hands of God.
It's been much easier to release my child to God than it has been to release my grief to God. We found out that Calvin died exactly one week after Ash Wednesday (and I delivered him exactly one week after my 27th birthday). At the time, I thought, Okay, God, if this is what you are asking of me, okay. What did I give up for Lent that year? I gave up my son. Some people don't understand what that means. They think that I didn't have a choice, but I did. I chose to say, Okay, God. I think that's why I never felt any anger at God after losing my son. I felt distant from Him, yes. I felt abandoned and forgotten when I first walked into hospital for my induction. But, I guess, a part of me always understood that He has great reason for what he allows to happen in my life.
The grief? That is a whole different story. Thinking back on it, I probably felt like (a small part of me still feels like), after giving up my son, I should at least be able to hold onto the grief. The pain felt like the only real thing left I had of Calvin. But I've started to learn differently.
Getting Out of the Pit
This is the picture I have of my grief:
My grief is like a cave. Dark. Cold. Empty. Lonely. It's on a mountain. It's hard to get to — and most others don't like visiting. It's hard to leave, though, because the thought of not being able to get back is scary. It's more comfortable in my cave than being outside, alone on the mountain. It feels lonely, yes, but it's cozy; I feel less vulnerable being in here and crying outward than being exposed out in the world.
I really like the quote by Corrie Ten Boom: There is no pit so deep that He is not deeper still. It gives me comfort to know that there is no place I go in my grief that God cannot find me. I know He has been with me, especially through the people He has brought into my life, through those who have been willing to join me in my cave.
Waiting for Resurrection
In the three days between His death and resurrection, the disciples might have felt guilt, sadness, and fear. In my own grief, I have felt all three. Right now, I feel sadness, but the guilt and the fear seem to have been lifted from me. I'm thankful for this respite.
In John 20:1-18, we learn of Jesus's resurrection. After He rose from the dead, He appeared before Mary Magdalene as she was weeping outside of the tomb. Although He was standing before her, Mary didn't recognize Jesus until He spoke her name. He was right there. She was in His presence. But she did not know it was Him because she was so overcome and distraught. I really like what Kelly wrote in her post, about needing to lift our eyes up to see that He is with us.
When Jesus asks Woman, why weepest thou? Whom seekest thou? (John 20:15), I'm sure He already knows the answer. I think He knows the answer better than I do. But just as He needed to call Mary Magdalene by name for her to recognize Him, I need to answer these questions for myself.
Looking Heavenward
The verses, I Cor 15:40, Phil 3:20-21, and Mt. 17: 1-5, imply that though we are made anew when we rise to Heaven in our spiritual bodies, I will still be able to recognize my babies, my Calvin and my Rainbow, just as the disciples recognized Elijah and Moses. I will be able to see them as He sees them and know them as He does. Thinking about this day, of being reunited with my children and being able to immediately recognize them brings me to tears. I am so thankful for that promise. I am so grateful to Jesus for giving up His life so that I may earn, through His grace alone, the chance to spend eternity with my children.
Unresolved Issues
I think this section could have a better title, but I can understand that the purpose of this section is to address some things that are, well… unresolved, but still…
I still need to organize the mementos I have of my babies. I want to print out the emails, comments, and notes we received from people, including the sweet messages people left for Calvin on Kisses for Calvin.
My babies' names
Calvin Phoenix: I wrote about Calvin's name in a previous "Walking with You" post, Naming Our Babies. Calvin has a combination of our first initials (C and L) and also happens to mean "bald," and Phoenix was an homage to Louie's grandfather, Felix, and means eternity and rebirth.
Rainbow: A mommy on BabyCenter posted this definition of a rainbow baby:
"Rainbow Babies" is the understanding that the beauty of a rainbow does not negate the ravages of the storm. When a rainbow appears, it doesn't mean the storm never happened or that the family is not still dealing with its aftermath. What it means is that something beautiful and full of light has appeared in the midst of the darkness and clouds. Storm clouds may still hover but the rainbow provides a counterbalance of color, energy and hope.
Louie and I both agreed to keep the name Rainbow because I felt she was a girl. Although we lost our rainbow baby, she still gave us the new hope and light that definition describes. Because of Rainbow, I know that I can love each of my children with the same fullness.
A letter to God
Dear God,
Thank You for blessing me and Louie with Calvin Phoenix and Rainbow Baby. Thank You for choosing us to be their mommy and daddy, to carry them during their brief lives on earth.
We miss them so much. My heart and arms ache for them so badly. It hurts that I can't watch them grow up. It hurts that Calvin isn't here saying Mamama and Dadadada and that Rainbow is no longer growing in my belly. I miss the hope that comes with being pregnant, and though I'm afraid of carrying life again because it means I could lose another child, I'm more afraid of not having anymore children at all.
I want to know what it's like, Lord, to raise my babies. I want to be able to smell their hair and plant kisses on their hands and feet. I love my babies so much, and it hurts that I can't touch them or soothe them. I want them to know how much I love them, how much their daddy and I wanted them.
I'm so thankful that they are safe in your care, that You are there with them, Lord, to wrap Your arms around them and give them hugs and kisses when we can't. I'm thankful that Mama, Nanay, Grandpa Frank, Grandpa Quireno, Grandma, Tatay, Auntie Mona, Mama Floring, and Mama Elang are there with Calvin and Rainbow, and look forward to being reunited with them and our other loved ones.
Please help me, God, to make my children proud, to let let them know that I want to live a good life in their honor and do good things because of them. They have saved me. They have brought me closer to You. They have strengthened and solidified my relationship with their daddy. I am grateful for that. I am so proud to be their mommy. Please tell them that for me.
And please continue to work in my life. Refine me, Lord, so that I may be worthy of Your grace.
Amen.
---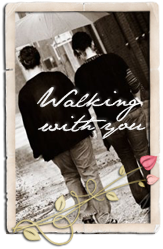 This Threads of Hope, Pieces of Joy Bible Study is part of the "Walking With You" outreach of Sufficient Grace Ministries, led by Kelly Gerken. To learn more, read Kelly's post: "Upcoming Threads of Hope Study."
To read my posts on other lessons, please use the links below:
•Lesson One: Your Story
•Lesson Two: So Many Questions
•Lesson Three: This Can't Be Happening
•Lesson Four: Why Me?
•Lesson Five: How Can I Go On?
•Lesson Six: I've Got to Get Better Soon
•Lesson Seven: Moving On to Acceptance
•Lesson Nine: Finding Joy
---